Winter often means more time spent indoors. More time to think about how the main floor bathroom needs an upgrade. Or how nice it would be to have a basement rec-room where the kids could play… quietly.
Whatever the situation, even small home renovations can be complicated to organize. There are many decisions to make, materials to purchase, and tradespeople to find and coordinate.
So in case cabin fever has you thinking you should manage your renovation yourself, here are our top 5 reasons you should hire a general contractor.
1. One Point of Contact
The average person spends over four hours a day on their smartphone. Many of us are trying to reduce that amount so we can spend more time with our families doing the things we love. But managing a renovation can feel like a full-time job. You'll spend more time tethered to your phone coordinating 6-7 trades, not to mention securing and ordering materials from a number of suppliers.
Hiring a general contractor means you have one point of contact who is responsible for managing the project and all of the people involved.
2. Tried and Tested Trades
Maybe you know you need to hire a carpenter, plumber, electrician, painter, tiler and flooring company, but how do you know which one? Word of mouth referrals and online reviews are ways that can help you narrow down the field. Hiring a general contractor is even easier.
A well-established contractor has the experience to know which sub-trades are the best for certain jobs. They've also spent years building strong relationships, which can mean that your job gets moved to the front of the queue during times of
high demand
.
3. It's All in the Details
With so many moving parts, it can be easy to get lost in the details of your home renovation, or worse–it can be easy for the details to get lost! Material lists, measurements, timelines, permits and inspections… One small mishap can lead to a major disruption in your project timeline. You want someone checking in and making sure the reno you're paying for is the reno you're getting–someone who knows all the details and exactly what to look for.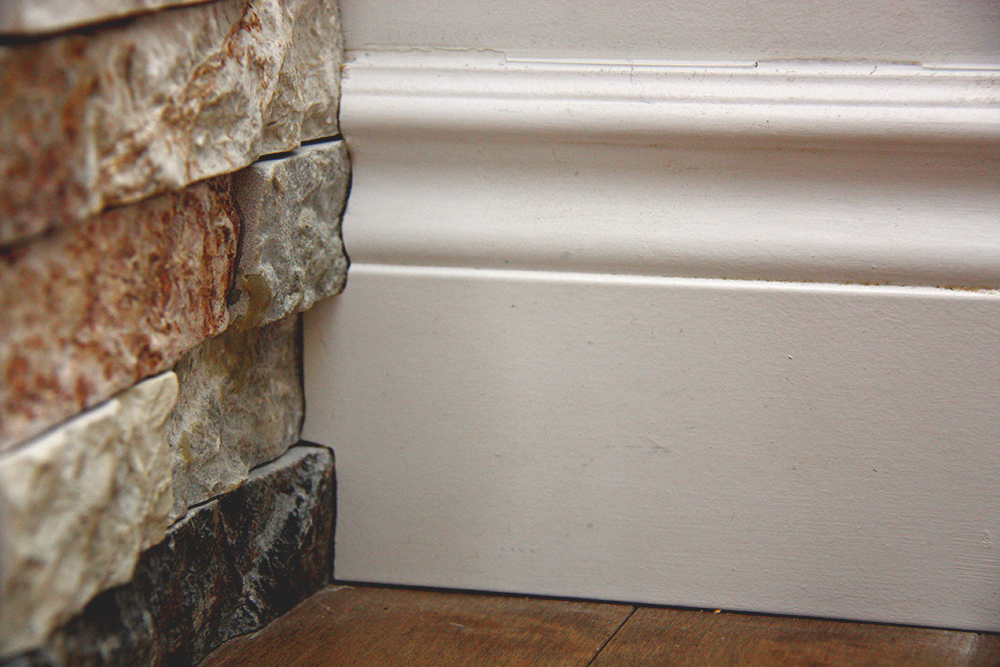 Small details, like how this baseboard tightly follows the contours of the stone wall, is a sign of quality.
4. Quality Inside & Out
An experienced contractor knows what quality looks like inside and out for every trade. The quality of the fittings, angles of the pipes, and neat run of the wires all contribute to the overall quality of your renovation, even if they go sight unseen.
Your contractor is your spokesperson for quality control. They ensure that each job is done right and that any issues are raised with the appropriate people so that you don't have to.
5. Better Outcomes, Quicker Completion
Experience is the common thread that links all the reasons you should hire a contractor to manage your home renovation. Experience translates into better outcomes, higher quality, and faster completion of your project. Inevitably, problems will arise–structural or superficial–and an experienced contractor will know who to call, what to do, and how to rearrange the project to stay as close to the timeline as possible.
Home renovations can be stressful. They can cause a disruption to your routine, and they require "strangers" to move freely in and out of your house. Hiring a general contractor removes some of this stress by building trust in your trades and by managing the details, both big and small. Your home renovation is an investment in one of your biggest assets. Hiring a general contractor will give you the best return.
---